Budget Gorilla Safaris (Very Affordable) Uganda Safaris
Choosing Budget Gorilla Safaris in Uganda makes it easy to have a Gorilla trekking Experience.  Budget travelers can take advantage of the factors that can reduce the cost of their Gorilla Safari in Uganda.
Uganda Gorilla trekking cost is USD 700 for foreign nonresidents, USD 600 for foreign residents, and UGX 250,000 for East African citizens. With the fact that the cost of the permit isn't bargainable, only things like the type of accommodation and means of transport can help you spend less compared to a Luxury trip.
Budget Gorilla Uganda Safaris can be Short or Long gorilla Trekking Holidays but accommodation is in the budget Lodges or hotels. Budget accommodation is much less than the mid-range or Luxury Lodges. Staying in basic facilities still offers comfortable accommodation though not with high-end world-class services. To cater to budget travelers, all around Bwindi Impenetrable National Park and Mgahinga Gorilla National Park there are Budget Lodges. Kabira Gorilla Safaris has the capacity of helping you book any of the Budget Uganda Safari Lodges or even camping facilities for A Gorilla Safari in Uganda.
How to plan for Budget Gorilla Trekking in Uganda
To have a less costly or cheapest Gorilla trekking tour in Uganda, there are several things that you can do to help you minimize your cost. Here are some of the things you can do to have the least cost for your Gorilla tour;
Take a Gorilla trekking tour in the low season
Just like any other Uganda safari activity, the best time to trek Gorillas in Uganda is during the dry season which is between December – February, and June – September. However, this is the high season and no Lodges or tour operators offer discounts which makes it expensive to trek. 
The low season is between October – November, and April to May. However, this is the rainy season but the advantage with it is that many Lodges offer discounts. Take advantage of this season to have discounted accommodation and travel on a budget.
Stay in Budget accommodation in Bwindi or Mgahinga
Both Bwindi Forest National Park and Mgahinga Gorilla National Park have budget lodges where you can stay at a low cost. To have a cheap gorilla holiday, you can book a tour and stay in one of the budget lodges around.
Having a Short Uganda Gorilla trekking tour means spending less. To have a Gorilla trekking safari in Uganda, you need a minimum of 3 Days with a transfer and return to Kampala. But to have a cheaper trip than arriving via Rwanda's Kigali International Airport makes it much cheaper since you can have a 2 Days Uganda Gorilla trek.
When you just want to trek the Gorillas without including other activities, then a short trip, in the low season combined with staying in budget hotels is the best way to have your holiday.
Budget Gorilla Safaris in Uganda
Considering all of these factors, we can help you book a budget Gorilla trekking safari in Uganda. Here are well planned Short Gorilla tour itineraries that you can choose from;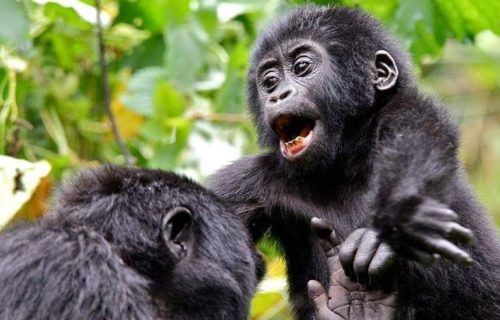 9 Days Budget Uganda Safari offers cheap or affordable gorilla trekking and wildlife viewing experiences.