Kwita Izina: The Gorilla Naming Ceremony Rwanda
What is Kwita Izina?
The ceremony of giving a name to a newborn baby commonly known as "Kwita Izina" has been part of the Rwandan tradition for centuries.
This ceremony has also been used for the past 3 decades now to give names to newborn gorillas. The names attributed to the gorillas play a great part in the program of monitoring each individual and Gorillas group in its habitat.
Since it started, the gorilla naming ceremony has been essential to Tourism and Conservation as well as its partners. The goal of Kwita Izina is to raise awareness of the protection of the mountain gorillas and their habitat.
16th Kwita Izina – Rwanda's Gorilla Naming Ceremony
The Kwita Izina Gorilla naming ceremony has received thousands of international, regional, and local visitors to its Virunga mountain ranges to visit the endangered mountain gorillas.
For decades, international conservation organizations, donors, and concerned individuals have made substantial resources available to the gorilla conservation cause and continue to do so. Each year the newborn gorillas are celebrated in an exciting event at the foot of the Virunga Mountains.
Previous Themes: Kwita Izina
2005: "Ensure the Future of the Mountain Gorillas of Rwanda "-30gorillas named
2006: "Recognized the Role of the international Tourists who Selected Rwanda as Destination "- 12 gorillas named
2007: "Caring for Wildlife Concerns Us AII"-23 gorillas named
2008: Working together to conserve our Wildlife "-20 gorillas named
2009: Celebrating the year of the Gorilla"-18 gorillas named
2010: "Many Species, One Planet, One Future " -14 gorillas to be named
Accomplishments of Kwita Izina
RDB has used this event to raise much-needed revenue through their Adoption Program that ensures they can finance initiatives that help them deliver on their promises to protect the mountain gorilla and achieve their mission to remove them from a list of endangered species. Individuals and Corporate Companies contributed for:
Sabying Community Lodge (SACOLA) cost Usd 1,2 million is now operational and will be launched during this years June Kwita Izina week
10 Water Tanks were constructed
2 Schools were constructed and equipped
Community Commercial Shop Complex in progress in Kinigi
PNV Buffalo Wall completed
A ten community projects were supported -Ex poachers association, Etc
Who has Attened Kwita Izina?
Since its Launch in 2005, Kwita Izina has attracted guests from all over the World.  Many leading personalities have taken part in naming the baby gorillas that were born in the previous year. H.E.President Paul Kagame and Mrs. Kagame launched the event in 2005 by naming the first mountain twin gorillas ever survived in the world. Since then many others have come including Hollywood Star Nathalie Cotman, Renowned American Conservationist Jack Hanna, many international media personalities, and business leaders
Authentic Rwanda Gorilla Tour Packages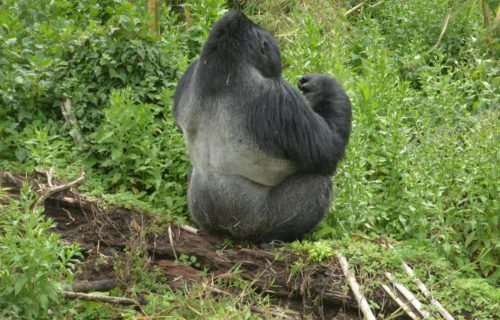 1 Day Gorilla trek Rwanda is the shortest Gorilla trek tour in Rwanda lasting just one day starting and ending in Kigali city. This One Day Rwanda Gorilla tour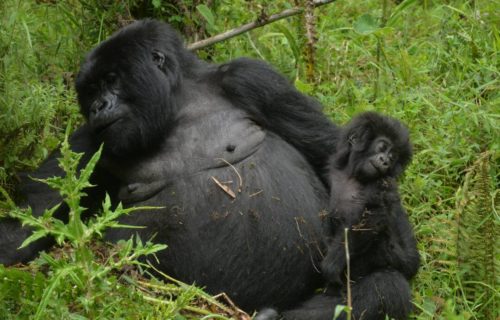 2 Days Gorilla tour Rwanda for a Gorilla trek experience in a 2 Days 1 night tour. This 2 Day Gorilla trek Rwanda is a short Gorilla Trekking Safari in Rwanda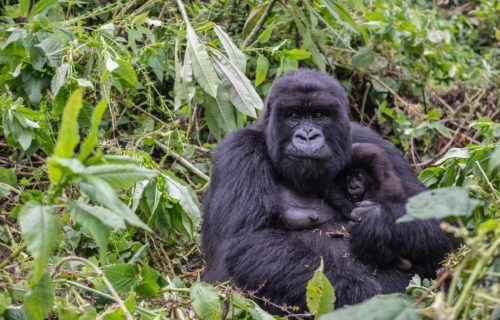 Rwanda Gorilla Tour Style
Rwanda is such a beautiful country that accommodates all kinds of travelers including Luxury and budget travelers. Depending on the amount of time one has in Rwanda, they can take either a Short or Long Gorilla tracking tour. Here are the different itineraries to suit both Short and Long Rwanda Gorilla tours;