A Guide To Gorilla Trekking In Rwanda (Updated 2024)
Book customized remarkable Rwanda Gorilla tours or Gorilla Trekking in Rwanda for exceptional Gorilla tours with Kabira Gorilla Safaris. Gorilla trekking is one of the Best Rwanda Safari activities popularly termed a unique wildlife experience.
Gorilla Trekking in Rwanda If there is any kind of safari that brings you closer to wildlife on foot, then it is a Rwanda Gorilla trekking tour. Living within a bamboo forest with Mountain Gorillas several times your weight and wild animals is such an experience that shouldn't miss on a traveler's bucket list.
Volcanoes National Park is the only place for Rwanda Gorilla tracking Tours Safaris just about 2 hours drive from Kigali International Airport. It's the only Gorilla trekking park from its International Airport. There are 10 habituated mountain Gorillas in Volcanoes National Park open for trekking by tourists. Each family receives 8 tourists on gorilla holidays per day for the trek. Rwanda Gorilla Safaris. Fortunately the Gorilla population of Rwanda is the easiest to trek. This is because they move for shorter distances and as well live in a bamboo forest which offers easy hiking experiences. 
It was in Rwanda where the popular American primatologist Dian Fossey did her extensive conservation on the Mountain Gorillas. She wrote a book titled Gorillas in the Mist 2 years before her death and it was later adapted into a film in 1988 with the same title. Today her legacy lives on at her Resting place in the Karisoke Research Centre. 
Rwanda Safaris/ Rwanda Tours – To see the Rwanda Mountain Gorillas here you must take Rwanda Gorilla Safaris tours/Rwanda Gorilla trekking whether on a short or long trip. The tour requires each trekker to go hiking/walking/trekking in the tropical dense forest.
Best-selling Gorilla Trekking Styles in Rwanda
Rwanda is such a beautiful country that accommodates all kinds of travelers including Luxury and budget travelers. Depending on the amount of time one has in Rwanda, one can take either a Short or Long Gorilla tracking tour. Here are the different itineraries to suit both Short and Long Rwanda Gorilla tours;
Stunning Short Gorilla Trekking Tours in Rwanda
Short Gorilla Trek tours in Rwanda itineraries range from 1 Day Gorilla Trek Rwanda to 3 Days Rwanda Gorilla Safari. Luckily, Rwanda is the only country where one can travel from Kigali to Volcanoes National Park for Gorilla Trekking and return in just 1 day. 
Here are well-planned itineraries ready for bookings for travelers looking for short trips;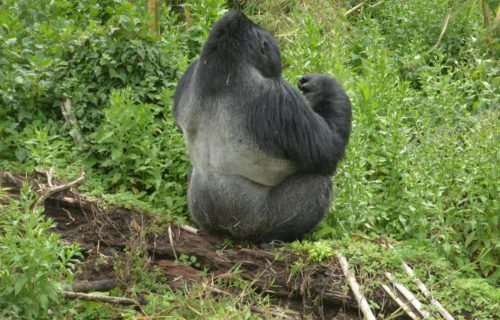 1 Day Gorilla trekking in Rwanda is the shortest Gorilla trek tour in Rwanda lasting just one day starting and ending in Kigali city. This One Day Rwanda Gorilla tour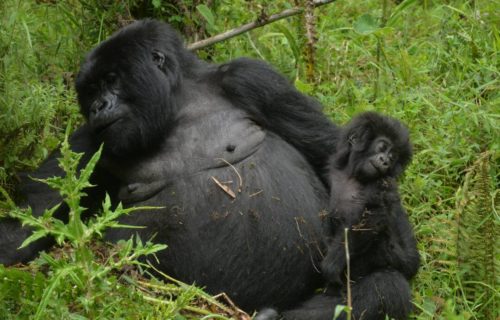 2 Days Gorilla tour Rwanda for a Gorilla trek experience in a 2 Days 1-night tour. This 2 Day Gorilla Trekking in Rwanda is a short Gorilla Safari in Rwanda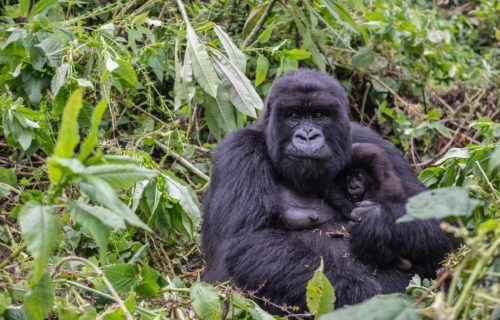 Extraordinary Long Rwanda Gorilla Tours Holidays
These well-tailor-made Long Rwanda Gorilla tours include Gorilla trekking in Rwanda and as well as visiting other destinations. These tours are customized to offer the best Gorilla tours in Rwanda and as well offer the best safari activities. 
In these Long Rwanda safaris, you visit other destinations like Nyungwe Forest National Park and Akagera National Park. For Rwanda wildlife tours, canopy walks, birding, and several other activities. These long trips run from 5 Days to 10 Days Rwanda safaris.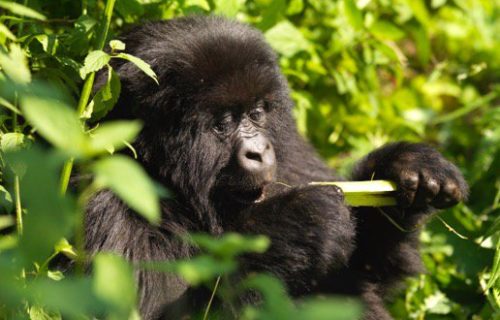 6 Days Rwanda safari offers a Gorilla trekking tour to Volcanoes National Park as well as Chimpanzee trekking in Nyungwe Forest National Park.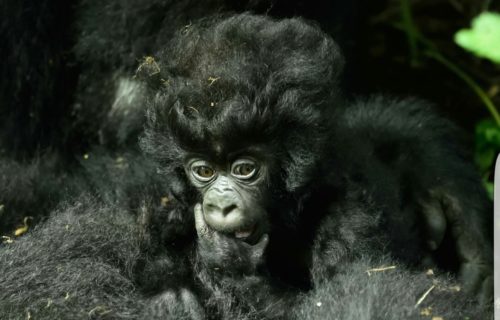 4 Days Gorilla trekking in Rwanda and Golden monkey trekking tour is such a memorable one that goes beyond just seeing the Mountain Gorillas.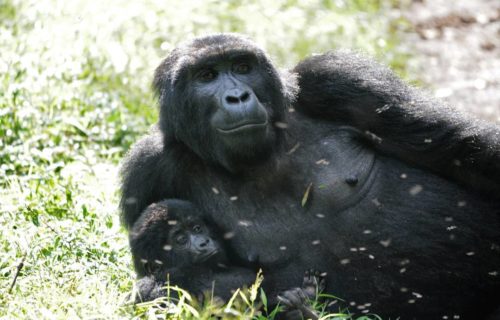 3 Days Rwanda Gorilla Safari customized with a hike to Dian Fossey's grave for a memorial visit. It is a 3 days 2 nights Rwanda Gorilla trekking tour.
Frequently Asked Questions
To help you make your Rwanda Gorilla Tours Trekking package a memorable experience, we offer you all of the most important Gorilla trekking information. There are several frequently asked questions about Gorilla trekking in Rwanda and here is everything you need to know.
What is Kwita Izina?
The ceremony of giving a name to a newborn baby commonly known as "Kwita Izina" has been part of the Rwandan tradition for centuries. This ceremony has also been used for the past 3 decades now to give names to newborn gorillas. Learn More
How much does it cost to see the Gorilla in Rwanda?
ORDINARY PERMIT: USD $1500 per person for all trekking visitors to Rwanda. The behind the scenes gorilla Tour for 3 days costs US$ 30,000 for 3 persons.
Is gorilla trekking worth the money?
Yes, Gorilla trekking is absolutely worth the money, effort & time spent. Travelers that have experienced gorilla trekking will definitely agree with me that the experience of coming face-to-face with these gentle giants is very worth every effort, money, and time put into planning the gorilla trekking holiday.
Is Uganda or Rwanda better for gorilla trekking?
Baas acknowledged that both Uganda and Rwanda offer great opportunities for gorilla trekking. However, she said that she personally favors Rwanda, as most of the terrain during the gorilla trekking is a little bit more open and therefore it is easier to get a good view.
When should I go to Rwanda?
The best time to visit Rwanda is during the drier period from June to September, when you have the best chance at spotting the country's undoubted highlight: the mountain gorilla. The rainy seasons, from March to May and in November, are the optimum times for tracking chimpanzees. It's also quieter then.
Can you see the Gorillas in Rwanda?
Tracking gorillas in Rwanda is safe and relatively accessible. At the latest count, there are approximately 1,000 mountain gorillas in the wild, with 604 in the Virunga Massif. The population is slowly increasing, thanks to concerted efforts between our governments, communities, and NGOs.
Where should I stay for Gorilla trekking in Rwanda?
Gorilla Trekking:
Volcanoes Virunga Lodge. You would never guess that gorilla trekking could be glamourous – yet Virunga Lodge makes the experience exactly that. …
Sabyinyo Silverback Lodge. …
Singita Kwitonda Lodge. …
Singita Kataza House. …
One & Only Gorilla's Nest. …
Bisate Lodge.
Is it safe to go gorilla trekking in Rwanda?
Is it safe to Trek Gorillas in Rwanda's Volcanoes National Park at present? The answer is a resounding yes. Rwanda remains one of the safest countries to visit in Africa. The security breaches in 2019 have been dealt with, and Rwanda has further increased security measures for tourists.
How many gorillas are left in Rwanda?
According to Dec 16, 2019 – The results show that the population there has increased to 459 individuals, from 400 at the last census. Including the mountain gorillas living in the Virunga mountain range of Rwanda and Congo, the overall total of mountain gorillas is now 1,063.