Rwanda's No1: Gorilla Trekking Company – Rwanda Gorilla Tours
Book customized Rwanda Gorilla tours for exceptional Gorilla tours with Kabira Gorilla Safaris. Gorilla trekking is one of the Best Rwanda Safari activities popularly termed as a unique wildlife experience.
If there is any kind of safari that brings you closer to wildlife on foot, then it is a Gorilla trekking tour. Living within a bamboo forest with Mountain Gorillas several times your weight and wild animals is such an experience that shouldn't miss on a travelers bucket list.
Volcanoes National Park is the only place for Gorilla trekking tours Safaris in Rwanda just about 2 hours' drive from Kigali International Airport. It's the only Gorilla trekking park from its International Airport.
There are 10 habituated mountain Gorillas in Volcanoes National Park open for trekking by tourists. Each family receives 8 tourists on gorilla holidays per day for the trek. 
Fortunately the Gorilla population of Rwanda is the easiest to trek. This is because they move for shorter distances and as well live in a bamboo forest which offers easy hiking experiences. 
It was in Rwanda where the popular American primatologist Dian Fossey did her extensive conservation on the Mountain Gorillas. She wrote a book titled Gorillas in the Mist 2 years before her death and it was later adapted into a film in 1988 with the same title. Today her legacy lives on at her Resting place in the Karisoke Research Centre. 
To see the Mountain Gorillas here you must take Rwanda Gorilla Safaris tours whether on a short or long trip. The tour requires each trekker to go hiking/walking/trekking in the tropical dense forest.
Rwanda Gorilla Tour Style
Rwanda is such a beautiful country that accommodates all kinds of travelers including Luxury and budget travelers. Depending on the amount of time one has in Rwanda, they can take either a Short or Long Gorilla trekking tour. Here are the different itineraries to suit both Short and Long Rwanda Gorilla tours;
Short Gorilla Trekking Tours in Rwanda
Short Gorilla Trek tours in Rwanda itineraries range from 1 Day Gorilla Trek Rwanda to 3 Days Rwanda Gorilla Safari. Luckily, Rwanda is the only country where one can travel from Kigali to Volcanoes National Park for Gorilla Trekking and return in just 1 day. 
Here are well planned itineraries ready for bookings for travelers looking for short trips;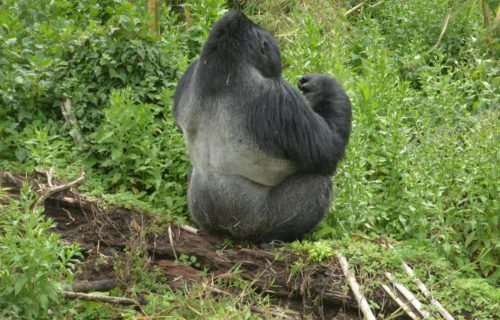 1 Day Gorilla trek Rwanda is the shortest Gorilla trek tour in Rwanda lasting just one day starting and ending in Kigali city. This One Day Rwanda Gorilla tour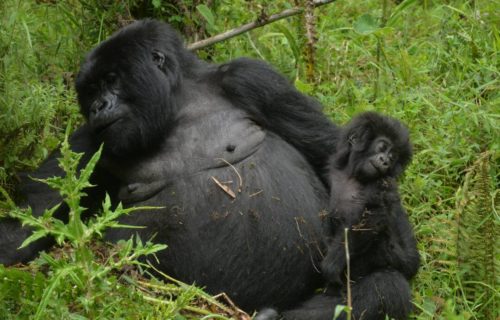 2 Days Gorilla tour Rwanda for a Gorilla trek experience in a 2 Days 1 night tour. This 2 Day Gorilla trek Rwanda is a short Gorilla Trekking Safari in Rwanda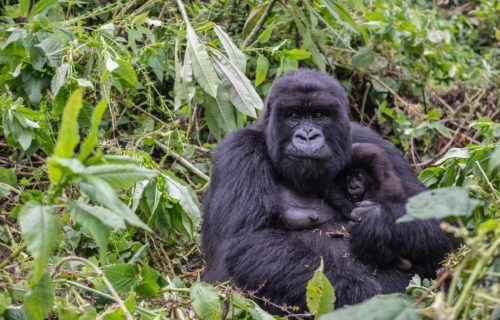 Long Rwanda Gorilla Tours Holidays
These well tailor made Long Rwanda Gorilla tours include Gorilla trekking in Rwanda and as well as visiting other destinations. These tours are customized to offer the best Gorilla tours in Rwanda and as well offer the best safari activities. 
In these Long Rwanda safaris you visit other destinations like Nyungwe Forest National Park and Akagera National Park. For Rwanda wildlife tours, canopy walk, birding and several other activities. These long trips run from 5 Days to 10 Days Rwanda safaris.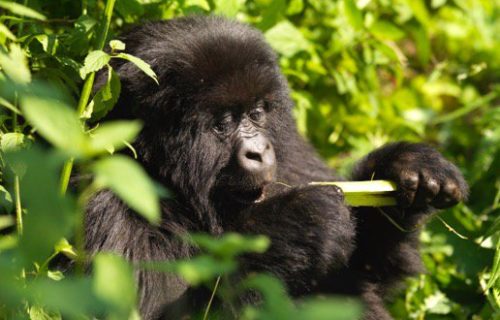 6 Days Rwanda safari offers a Gorilla trekking tour to Volcanoes National Park as well as Chimpanzee trekking in Nyungwe Forest National Park.
Frequently Asked Questions 
To help you make your Rwanda Gorilla Tours Trekking package a memorable experience, we offer you all of the most important Gorilla trekking information. There are several frequently asked questions about Gorilla trekking in Rwanda and here is everything you need to know.
How much does it cost to see the Gorillas in Rwanda?
Is it safe to go Gorilla trekking in Rwanda?
Why is Gorilla trekking so expensive?
How can I visit the Gorillas in Rwanda?
Where should I stay in Rwanda to see Gorillas?
How difficult is Gorilla trekking?
How much is a Gorilla Permit in Rwanda?
Where can I see a silverback Gorilla?
How many Mountain Gorillas are in Rwanda?
What do you wear to a Gorilla trek?
Best time to visit Rwanda
Where is the Rwanda located?
What is Rwanda known for?
Do you need a visa for Rwanda?
What is the climate in Rwanda?