Planning a Rwanda Vacation? Try this 1 Day Gorilla Trek Itinerary
Overview of the 1 Day Gorilla Trek Rwanda
1 Day Gorilla Trek Rwanda is the shortest Budget 1 Day Gorilla trek Rwanda starting from Kigali or Musanze (Rwanda Gorilla Trek), Rwanda lasting just one day. 1 Day Gorilla Trek Rwanda offers one of the most magical Gorilla trekking experiences in Rwanda's Volcanoes National Park.
This 1 Day Gorilla Trek Rwanda is the only possible Gorilla safari day tour created for tourists already in Rwanda. The tour starts with a very early morning pick-up and ends with a late evening drop-off in Kigali town.
Volcanoes National Park Rwanda is the only park with Mountain Gorillas in Rwanda and the closest habitat to an international airport. It's just about 2 hours 20 minutes drive to Volcanoes National Park from Kigali via the fastest route. A 1 Day Gorilla trek Rwanda is designed to suit travelers who do not have much time but want to have a Gorilla trekking safari. This itinerary applies to visitors who are already in Rwanda, especially in Kigali. Though very exhausting the gorilla tour offers a thrilling trekking experience and 1-hour encounter with the world's endangered Mountain Gorillas.
But wait, let me tell you something:
 Tour Summary
Safari starts and ends in Kigali
Gorilla trekking in Volcanoes National Park
A maximum 1 hour will be spent with the mountain Gorillas
Transfers by a 4×4 safari vehicle
 Accommodation before and after trip in Kigali can be arranged on request at an extra cost
What you need to know
Be ready to wake up so early and return late, it's exhausting
Accommodation is provided as included 
Tour can start any time of the year
Minimum age for tour is 15 years 
Gorilla permit is included in the cost (US$ 1500)
Itinerary Gallery: 1 Day Gorilla Trekking Rwanda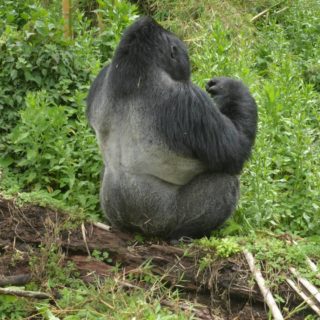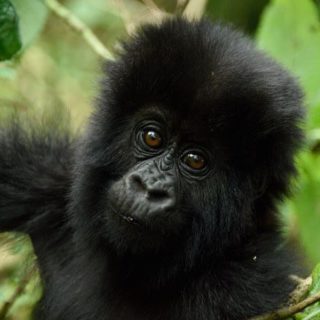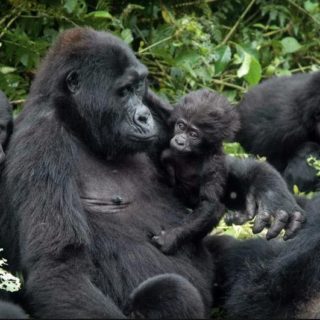 What's the real story?:
Detailed Itinerary of the 1 Day Gorilla Trek Rwanda
The 1 Day Gorilla Trek Rwanda starts very early in the morning as early as 5:00 am local time from Kigali city with a pick up by your Rwanda Safari Guide. Inform your hotel to provide early morning breakfast or organize a packed breakfast for you. From your place of residence, you spend about 2 hours on the drive to the park driving through the picturesque backdrop of Rwanda.  Arriving at the park, you transfer to the park headquarters in Kinigi where you first have a briefing by on the dos and don'ts of Gorilla trekking in Rwanda by the park warden. By 8:30 am, the park ranger guide will transfer you to the trekking starting point for a Rwanda Gorilla trek.

Gorilla trekking in Rwanda: epic & moving adventure!
You will be allocated a Gorilla family to trek alongside 7 other trekkers making a total of 8 people alongside park rangers. The group will take about 2-6 hours in the jungle trekking through the bamboo forest along with armed ranger guides. However, only 1 hour (60 minutes) is spent watching the Mountain Gorillas go along with their daily lives. Mountain Gorillas in Rwanda are known to move for shorter distances and therefore trekking lasts a few hours in most cases. After the 1 hour encounter with the Mountain Gorillas, you return to the park headquarters where you meet your driver-guide for the transfer back to Kigali. Drop off at the place of residence in Kigali city. 
End of the 1 Day Gorilla Trek Rwanda
Cost Inclusions
English speaking driver guide
Entry fees and taxes including Gorilla permit
Safari van
Lunch 
Water on board
Cost Exclusions 
Any purchases of personal kind
Any changes to the itinerary
International flights and visas
Note: Transfers will be by a desired safari vehicle and in accordance to the number of people travelling.
Transport 
4×4 safari land cruiser for luxury travelers
4×4 safari van for budget travelers
Safari Route: 1 Day Gorilla Trek Rwanda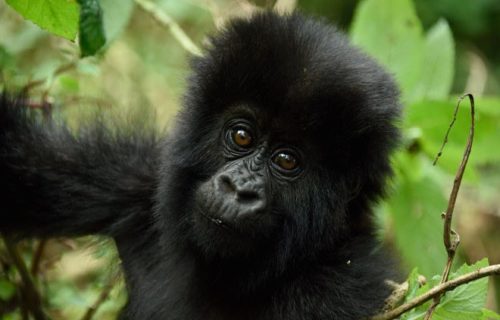 2 Days Gorilla Trek Rwanda for a gorilla trekking experience in a 2 days 1 night tour. This 2 Day Gorilla trek Rwanda is a short Gorilla trekking safari in Rwanda to Volcanoes National Park.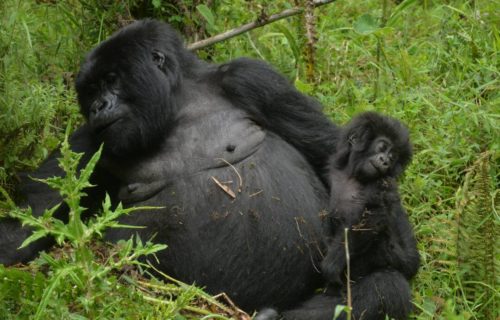 3 Days Gorilla trekking Rwanda is one perfect short Gorilla trekking safari in Rwanda for 3 Days and 2 nights at Volcanoes National Park. The tour is specifically meant for Gorilla trekking.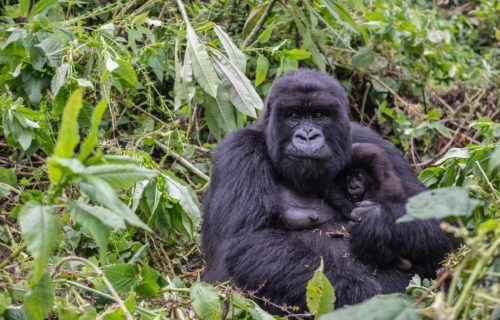 4 Days Rwanda Gorilla safari and Golden monkey trekking tour is such a memorable one that goes beyond just seeing the Mountain Gorillas but learning about their conservation history.