Hiking in Bwindi National Park (Best Hike, Trails & Costs)
Hiking in Bwindi Forest National Park (Best Hikes & Trails) – While most safari excursions in Africa are undertaken in a jeep, Bwindi's dense woodland is one of the few that can only be reached on foot. To trek on one of the park's six trails, you don't need a gorilla permit, but you do have to pay an entrance charge. On one of these walks, you won't meet gorillas, but you will undoubtedly encounter other inhabitants of the jungle and enjoy the spectacular environment.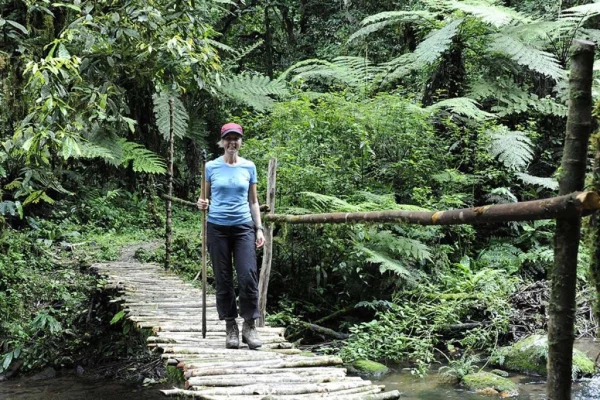 The Best Hiking Trails in Bwindi National Park
Some of the best hikes in the world are available in Bwindi. Seriously. They are difficult and provide amazing views because to the rocky terrain. Additionally, you can observe a stunning variety of trees, vines, flowers, birds, animals, insects, mosses, and more thanks to the park's diverse ecology. Additionally, because the hikes are guided, a competent person will always be present to identify and talk about interesting animals and flora.
The different hikes; The two well-maintained foot routes that connect the Buhoma and Nkuringo gates can be used as a starting point for a guided trip.
Muyanga Waterfall Walk: To reach a stunning waterfall that is 108 feet tall, go along the Ivi River. The more extensive Ivi River Walk trail includes this walk.
Rushura Hill Walk: This trek offers stunning views of the Virunga Volcanoes, the Rwenzori Mountains, and Lakes George and Edward on a clear day.
Muzubijiro Loop: Nearly 4 miles long, this circle trail frequently has baboons and other monkey species as residents.
Habinyanja Trail: Bird lovers should take the Habinyanja Trail, which leads to the bird-rich Habinyanja Swamp through a rock shaped like an African continent. The rare and elusive Pel's fishing owl is the most sought-after sighting in this area. It takes four to six hours to complete the trail.
Ivi River Walk: This nine-mile journey takes almost seven hours, but it also goes through Mukempunu, which means "place of pigs." As the name suggests, there are probably some enormous forest hogs hanging out in the water.
Buhoma-Nkuringo Trail: The settlements of Buhoma and Nkuringo are connected by this trail, which runs through the park. One trip takes roughly three to four hours, however you can hire a driver to deliver your luggage to the other town so it will be there when you get there.
The different hikes; With break stops, the 14 km Ivy River trail takes roughly six and a half hours to complete. One of the climbs costs US$70 per participant to complete. You must have a packed lunch and at least two liters of water. Additionally, you must put on long pants and sturdy hiking footwear, especially waterproof ones.
With rest stops, the Kashasha River route lasts about five hours.
Hikes for bird lovers
A beautiful trail leads from Nkuringo to Lake Mutanda as well. This takes around five hours, and each group pays $50 to $70 for it. The Munyanga Waterfall trek is another option. It's a stunning three-hour hike that goes from the park headquarters to Munyaga Waterfall and back. For those with limited time as well as for bird enthusiasts (though, to be fair, all Bwindi hikes are fantastic for bird lovers). The Rusizi River walk and the Habinyanja trail are two more hikes that are especially beneficial for birdwatchers. The section on Bwindi's birdlife is below; read it to find out what birds to watch for.

Bwindi Gorilla Trek Uganda
Top Safari Packages in Bwindi National Park