Long Congo Gorilla Trekking (Experts in planning premier)
Mind-blowing Long Congo Gorilla Trekking tours that include Congo mountain Gorilla trekking as well as wildlife tours and other Congo Safari activities. The country may not be an authentic African wildlife safari destination but an intrepid traveler will find a lot of unique species like the Okapi in the Ituri forest.
These Long Congo Gorilla tours take at least 5 to 10 days. Some of the activities that are added to gorilla trekking include birding, boat safaris, hiking mount Nyiragongo, chimpanzee tracking, and many more. Gorilla safaris in Congo include those in Virunga National Park as well as those to Kahuzi-Biega National Park
Virunga National Park is home to Mountain Gorillas and raises to an altitude of 5,000 m above sea level. This requires hiking. Kahuzi-Biega National Park altitude ranges from 2,790 m to 3,308 m. This is lower than the latter and favorable for tourists who would not like to hike for longer distances. 
We have expertise in planning premier Long Congo Gorilla tracking tours. These packages do not only include Gorilla trekking but also other adventure safaris in Congo. Here are sample long tours in Congo including Gorilla trekking;
Best Congo Gorilla Safari Packages

Mountain Gorilla Trekking, Virunga NP, DR Congo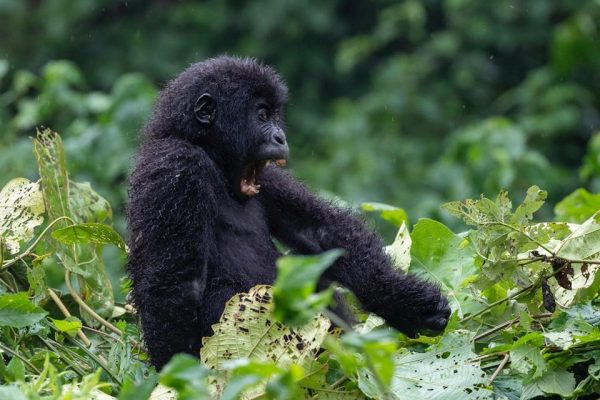 Book 5 Days Congo Gorilla Safari & Nyiragongo Hike itinerary for an experience of climbing the Nyiragongo Volcano as well as trek Mountain Gorillas in Virunga National Park. Any intrepid travelers wishing to have one of the most amazing experiences climbing up an active volcano and spending the night at the summit should book this Long Congo tour. Congo sells the cheapest Gorilla trekking permits in Africa and this gives advantage to travelers who would want to have budget tours.